In no other industry are cable and connectivity as critical as in the medical field: Their performance can save lives. Along with the medical devices and equipment they support, cables and connectors must perform despite pressures of 24/7 medical use, including constant handling and sterilization.
Alpha Wire's cable and connectivity solutions combine accurate diagnostics with complete cleanability, ease of use, space savings and impressive reliability—helping you push the boundaries of what's possible with medical device design.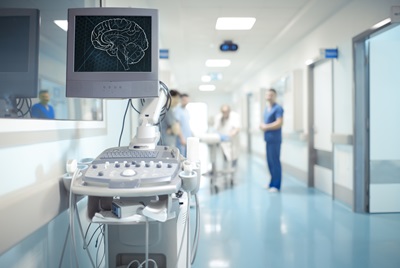 Medical Devices Brochure
Learn more about the perfect solution for your medical devices.
Imagining and Diagnostics Devices

Patient Monitoring Devices

Surgical & Life Support Devices

General/Universal Devices
Major capital investments that impact care—CT scanners, ultrasound equipment and X-ray devices, for example—perform only as well as the cable and connectivity that link them to power and data. When these components fail, the result is extensive, costly service and repair work, as well as unexpected equipment downtime.
Because uptime and availability are non-negotiable, Alpha Wire manufactures highly reliable cabling designed to resist RFI and EMI interference that could negatively impact diagnostic information.
When replacement is necessary, our cables are fast and easy to deploy. They ensure consistent performance, require fewer connections to maintain and reduce costs by combining multiple performance characteristics into one cable.
Whether measuring heart activity or monitoring oxygen levels, point-of-care devices like pulse oximeters, EKG devices and endoscopes help connect clinicians to patients. Because this equipment is often moved and repositioned, the right combination of cable flexibility and strength is key to making sure components transmit vital information without interruption—and ensuring a long lifespan despite frequent use.
As an authority in the medical device market, Alpha Wire offers custom cable and connectivity options that reduce assembly and gauge size to maximize miniaturization and reduce space requirements. These advances also make cables lighter in weight, reducing wear and tear on devices and making them more comfortable and ergonomic when used by clinicians or then they come into contact with patients.

Tough jackets give Alpha Wire cables the ability to stand up to repeated sterilization and harsh chemicals, maintaining a long life that reduces total cost of ownership.
In the wake of the evolution toward device miniaturization and portability, surgical and life support equipment is becoming smaller, less invasive and more portable to make greater medical impact.
From respirators and defibrillators to surgical robots, cables need to stay connected no matter what—without interfering with surgical procedures. Lightweight solutions offer better ergonomics for handheld tools, reduce space requirements for installation and make devices less cumbersome to use.
Universal medical devices found in almost every healthcare setting—from electric wheelchairs and surgical lights to exam tables and patient beds—rely on precision in movement to keep patients comfortable and clinicians connected.
Alpha Wire specializes in designing biocompatible cables that can support this type of movement while resisting chemicals and temperature extremes. This lets hospitals and clinics focus on patient care instead of worrying about downtime or equipment failure/disconnection during a vital procedure.

Our cables help clinicians provide the best possible care to patients without worry or risk of disconnections that can bring workflow to a stop.
Typical Medical Device Applications
Imaging and Diagnostics Devices

General Devices/Universal Devices

Patient Monitoring Devices

Surgical and Life Support Devices

CT Scanners
X-Ray Devices
MRI Scanners
Ultrasound Equipment

Motorized Hospital Beds
Dental Chairs
Dental Drills
Wheelchairs

Electroencephalographic (EEG) Equipment
Electrocardiographic (EKG) Devices
Pulse Oximeters
Endoscopes
Laparoscopes

Medical Robots
Centrifuges
Anesthesia Apparatus
Respiratory Equipment
Ophthalmological Instruments
Dialysis Apparatus
Lasik Instruments