Robotics brings new levels of efficiency, safety and precision to manufacturing. It also places new demands on the cabling that supports this automation. Robotics depends not only on the right technology, but also using the right cables to support it.
Cables act as the lifeline for robotics, but they are easy to overlook among all the other important considerations. Using the right cables is just as critical as choosing the right robotics technology, selecting the appropriate tooling, completing programming and installing safety devices.
Without proper planning, poor cable performance can be one of the biggest causes of downtime and failure in robotics applications. Thinking about cable upfront will put you one step ahead when it comes to time savings and productivity.
Alpha Wire designs cables that address the distinctive challenges associated with articulated, linear, collaborative, AGV, SCARA and delta robot applications. The result: cable solutions that perform under extremely high stress.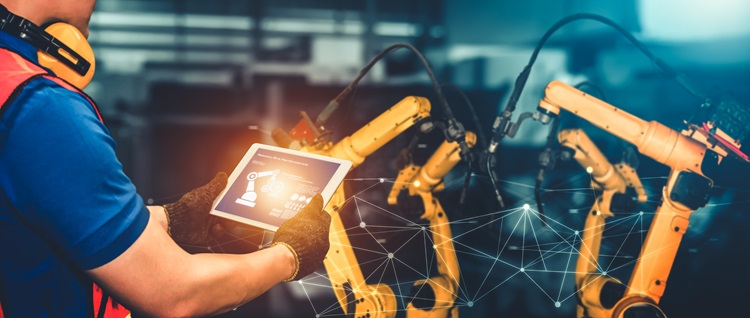 Enduring Vibration & Abrasion
One of the factors that sets robotics and automation applications apart is the constant movement: tilting, rotating and hard stopping and starting. The right cables for these jobs are cables that can withstand this repetitive motion, twisting and bending—even on fast robots.
Alpha Wire's dynamic flexing designs support continuous flex, acceleration, multi-axis and rolling flex motions to ensure that cables continue to perform while they move for increased reliability and uptime.
Advancements in automation and artificial intelligence are driving innovation within the world of manufacturing—and also driving down the size of technology. Within each generation, components become smaller and more powerful to support faster performance in applications ranging from medical instrumentation to motors.
These innovations also call for lightweight solutions that are easy to handle and don't weigh components down. Our cables are available in compact designs to support smaller footprints. Their lighter weight helps reduce the load on moving components to improve safety while gaining tighter, more precise control.
Even if your industrial environment seems stable—moderate and consistent temperatures, no moisture, minimal flexing—vibration is likely impacting your cables. Sources of vibration typically originate from equipment like pumps, chillers, fans or even robots. This continuous or rapid movement—no matter how slight—can jar connections, generate noise and crosstalk, and create abrasion.
Alpha Wire's abrasion-resistant jacket compounds absorb shock, impact and vibration while also resisting cut-through and physical damage. This minimizes the amount of time you spend replacing worn-out or damaged cables due to abrasion.