Renewable energy is growing—it's up by 45% in just the past year, according to the International Energy Agency. From rooftops and photovoltaic power stations to wind farms and electric vehicles, the cables and connectors used in these environments act as a nervous system, sending and receiving vital information.
Renewable energy applications call for cables that offer the highest levels of reliability and flexibility possible—not only to prevent downtime and disruption, but also because these systems are often in difficult-to-reach locations and can be hard to service. Wind turbines are often positioned in the middle of fields; photovoltaic panels are placed on high rooftops. If a cable stops working, then entire buildings, neighborhoods and communities can come to a standstill without power.
Major climate swings, severe hot and cold temperatures, ozone and UV radiation, moisture, oil: These cables are exposed to it all. Cabling solutions from Alpha Wire are made especially for the extreme rigors of solar, wind, smart grid, and electric vehicle applications to provide years of dependable and consistent service. We also offer small put-ups to give you exactly what you need for renewable energy applications—no excess cable you can't or won't use.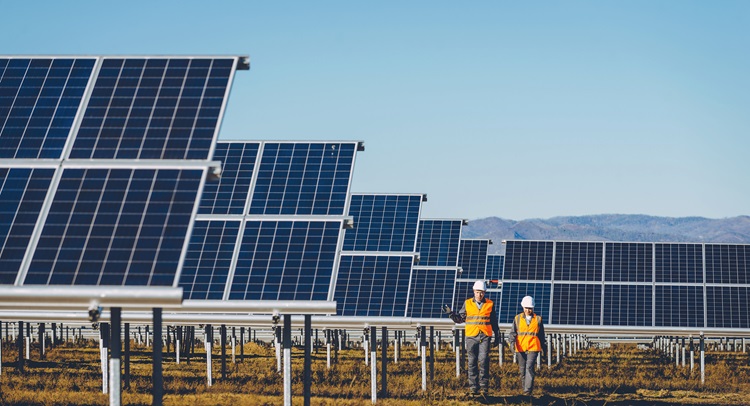 Sun, heat, rain, cold and UV exposure can degrade some cables used in solar power applications, leading to premature failure that disrupts the performance of a photovoltaic system.
Alpha Wire's cables, available in a range of gauges and conductor counts—and with specially formulated PVC jackets—provide years of reliable service because they're built to perform without flaw in these types of environments. Hot temperatures, humidity and scorching rays will never prevent our cables from doing their job.
As electric and hybrid vehicles become more prominent, be prepared to support them with infrastructure that ensures reliable electrical performance and charging power. Nothing is more frustrating than connecting to a vehicle charging station that doesn't work because of a malfunctioning cable.
With superior durability, Alpha Wire cables can be used to support and charge electric and hybrid vehicles in the harshest and most unforgiving of environments. You can be confident that your charging stations will work whenever they're needed—without frequent troubleshooting and maintenance due to cable failure.
Similar to cables used in solar applications, the cables and connectors used for wind turbines and wind farms endure every type of imaginable environmental condition. If something is happening outside, then it's happening to the cable. In addition to moisture, temperatures, humidity and UV radiation, cables in wind applications must also perform despite vibration and potential interference from motors.
Alpha Wire's wind-rated cabling solutions are UL Listed for wind turbine, grid and substation environments. They combine quality, durability and performance while resisting oils, solvents, chemicals, abrasion and fuel. Our unique products reduce costly maintenance and repairs, support flexibility, are easy to install and can be deployed in tight spaces thanks to small footprints.
Smart grid architecture—built on the premise of an electrical grid enabling a two-way flow of electricity and data—brings the potential for technology to work in sync with the electrical grid to respond to quickly changing demands for electricity. This adds resiliency to the grid, improves efficiency of power transmission, decreases peak demand, allows for faster restoration after outages and reduces operating costs.
Alpha Wire cables support smart-grid architecture to enhance reliability and efficiency, ensure cybersecurity and help prevent outages, failures and damage to grid components. Because of their inherent dependability and reliability, our cables are able to monitor problems in all conditions so potential issues can be dealt with faster.
Data collection and monitoring play an important role in renewable energy applications—and Alpha Wire instrumentation cable and connectors can support these applications.
Designed to ensure excellent signal integrity, our cables are reliable and robust to resist interference, transmit across long distances, function despite temperature extremes and connect you with 24/7 access to the data you need.

Photovoltaic Wire Features:

14 AWG to 2 AWG
UL 4703 PV wire/TUV Pfg 1169 LSZH wire
UL 4703 PV wire PVC jacketed wire
-40°C to +90°C
Oil and sunlight resistant
Solar Cable Features:
Stranded bare copper conductors
PVC jacket
PVC/nylon insulation
Tinned copper braid shield, 85% coverage
Sunlight, ozone, and UV resistant
Direct burial
Oil Resistant
Moisture resistant
10x bend radius
Wide temperature range: -40°C static/-30°C bending to +90°C
Existing Products Include:
Series M and Series P control cables, ideal for stationary tray application with light to moderate flexing, are available in conductor counts to 65 and wire sizes from 18 AWG to 8 AWG.
Type 492 Slit Loom Tubing protects cable, simplifying its installation. A full-length slit allows the tubing to be slid over cable for easier breakouts and flexible routing.
Liquid-Tight Flexible PVC Tubing and fittings keep cables safe, dry, and protected.
Solid Bus Bar Wires, in sizes from 12 AWG to 6 AWG, meet the requirements of NEC 705.2 for panel grounding.
FIT® Heat-Shrink Tubing makes it easy to protect, organize, strain-relieve, and repair cables—with a range of shrink ratios and materials for any application environment.