High Low Temperature Cable
M1204
High Low Temperature Cable
M1204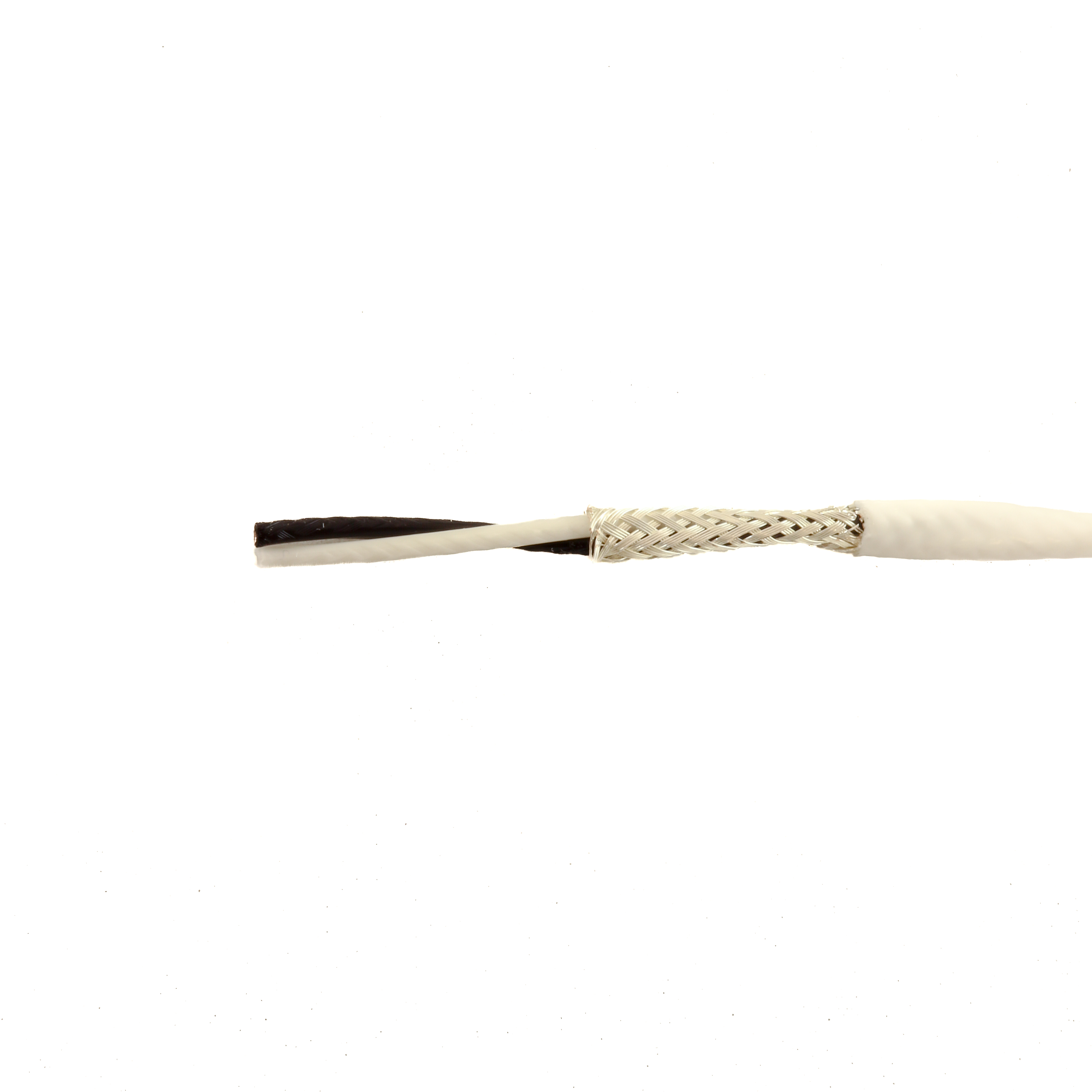 Construction
 
Diameters (In)
1) Component 1
4 X 1 COND
 
a) Conductor
26 (7/34) AWG Silver Plated Copper
0.019
b) Insulation
0.010" Wall, Nom. PTFE
0.039
(1) Color Code
Alpha Wire Color Code P

| | | | | | |
| --- | --- | --- | --- | --- | --- |
| Cond | Color | Cond | Color | Cond | Color |
| 1 | WHITE | 3 | RED | |   |
| 2 | BLACK | 4 | GREEN | |   |

2) Cable Assembly
4 Components Cabled
 
a) Twists:
9.6 Twists/foot (min)
 
b) Orientation:
Components to be arranged from INSIDE LAYER to OUTSIDE LAYER
 
3) Shield
Silver Platted Copper BRAID Shield,85% Coverage, Min.
 
4) Jacket
0.012" Wall, Nom.,PTFE Tape
0.140 (0.155 Max.)
a) Color(s)
WHITE
Applicable Specifications
1) Military
 
 
a) Component 1
MIL-W-16878/4 (Type E)
200°C / 600 VRMS
2) Other
 
 
a) Component 1
NEMA HP3-EXBEE
200°C / 600 VRMS
3) CE:
EU Low Voltage Directive 2014/35/EU
Environmental
1) CE: EU Directive 2011/65/EU(RoHS2), EU Directive 2015/863/EU (RoHS3):
 
This product complies with European Directive 2011/65/EU (RoHS Directive) of the European Parliament and of the Council of 8 June 2011 and the amending Directive 2015/863/EU of 4 June 2015 . No Exemptions are required for RoHS Compliance on this item.
2) REACH Regulation (EC 1907/2006):
 
This product does not contain Substances of Very High Concern (SVHC) listed on the European Union's REACH candidate list in excess of 0.1% mass of the item.
3) California Proposition 65:
This product may contain substances known to the State of California to cause Cancer or Reproductive Harm, but is exempt from labeling based on the Consent Judgement. See the Alpha Wire website for more information.
Properties
Physical & Mechanical Properties
1) Temperature Range
-55 to 200°C
2) Bend Radius
10X Cable Diameter
3) Pull Tension
8.7 Lbs, Maximum
Electrical Properties
(For Engineering purposes only)
1) Voltage Rating
600 VRMS
2) Capacitance
17 pF/ft @1 kHz, Nominal Conductor to Conductor
3) Ground Capacitance
31 pF/ft @1 kHz, Nominal
4) Inductance
0.2 μH/ft, Nominal
5) Conductor DCR
38 Ω/1000ft @20°C, Nominal
Other
| | |
| --- | --- |
| Packaging | Flange x Traverse x Barrel (inches) |
| a) Bulk(Made-to-order) | Put-ups may contain multiple pieces, 100 ft min length. |