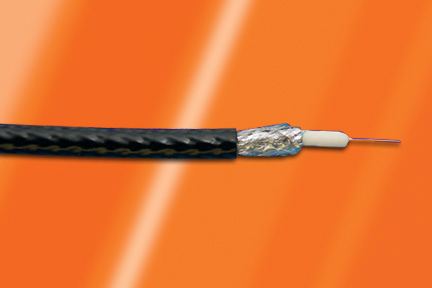 Alpha Essentials Data & Bus cables offer industry-leading mechanical and electrical performance for the major industrial automation protocols, including ControlNet™, RS-485, DeviceNet™, Fieldbus, PROFIBUS™, and Industrial Twinax. With multiple configurations, we are sure to meet the needs of your demanding applications.
ControlNet™ Cable
Low-loss RG-6/U 75-ohm coaxial cable
Double braid/foil shielding for maximum signal integrity and run length
RS-485 Cable
1 to 4 pairs
Braid/foil shield to reduce electrical noise sensitivity
UL Type PLTC Open Wiring (300 V)
Sunlight resistant
DeviceNet™ Cable
Power and data in a rugged two-pair cable
Sunlight resistant
Available for ODVA thick and thin trunks
Compliant with Allen-Bradley part numbers 1485 CPI-A and 1485 CPI-C
Fieldbus and PROFIBUS™ Cable
100-ohm impedance for Types A and B Fieldbus
150-ohm impedance for High-Speed Fieldbus and PROFIBUS DP
Industrial Twinax Cable
Meets the requirements of Allen-Bradley Data Highway Networks
Construction
 
Diameters (In)
1) Component 1
2 X 1 COND
 
a) Conductor
18 (7/26) AWG Tinned Copper
0.046
b) Insulation
0.025" Wall, Nom. FRPP
0.096
(1) Color(s)
 
 

| | | | | | |
| --- | --- | --- | --- | --- | --- |
| Cond | Color | Cond | Color | Cond | Color |
| 1 | BLUE | 2 | WHITE | |   |

2) Cable Assembly
2 Components Cabled
 
a) Twists:
6.9 Twists/foot (min)
 
b) Orientation:
Components to be arranged from INSIDE LAYER to OUTSIDE LAYER
 
3) Shield:
Alum/Mylar Tape, 25% Overlap, Min.
 
a) Foil Direction
Foil Facing Out
 
b) Drain Wire
20 (7/28) AWG Tinned Copper
 
c) Braid
Tinned Copper,55% Coverage, Min.
 
4) Jacket
0.053" Wall, Nom.,PVC
0.324+/- 0.015
a) Color(s)
BLUE
b) Print
ALPHA WIRE-* P/N 6450
EXXXXX 1PR18 SHIELDED (UL) 600V 75C DRY SUN RES
TYPE TC OR PLTC OR ITC OR CMG OR C(UL) CMG ---
P-MSHA (MSHA #) CE ROHS
(SEQ FOOTAGE EVERY 2 FT)
* = Factory Code
[Note: Product may have c(UL) or CSA markings depending upon plant of manufacture.]
Applicable Specifications
1) UL
TC
75°C / 600 VRMS
 
PLTC
75°C
 
ITC
75°C
 
CMG
75°C
 
SUN RES
 
2) CSA International
CMG
75°C
 
FT4
 
3) Other
PMSHA Specification
 
4) CE:
EU Low Voltage Directive 2014/35/EU
Environmental
1) CE: EU Directive 2011/65/EU(RoHS2):
 
This product complies with European Directive 2011/65/EU (RoHS Directive) of the European Parliament and of the Council of 8 June 2011and the amending Directive 2015/863/EU of 4 June 2015 . No Exemptions are required for RoHS Compliance on this item. Consult Alpha Wire's web site for RoHS C of C.
Properties
Physical & Mechanical Properties
1) Temperature Range
-40 to 75°C
2) Bend Radius
10X Cable Diameter
3) Pull Tension
40 Lbs, Maximum
Electrical Properties
(For Engineering purposes only)
1) Voltage Rating
600 VRMS
2) Characteristic Impedance
78 Ω +/- 5
3) Inductance
0.12 µH/ft, Nominal
4) Mutual Capacitance
19.5 pF/ft @1 kHz, Nominal
5) Velocity of Propagation
65 %
6) Conductor DCR
6.9 Ω/1000ft @20°C, Nominal
7) OA Shield DCR
3.2 Ω/1000ft @20°C, Nominal
8) Attenuation, Max dB/100ft
0.5 @ 1 MHz
 
2 @ 10 MHz
 
3.8 @ 50 MHz
 
5.4 @ 100 MHz
 
7.6 @ 200 MHz
 
10.7 @ 400 MHz
Other
| | |
| --- | --- |
| Packaging | Flange x Traverse x Barrel (inches) |
| a) 1000 FT | 18 x 12 x 8 Continuous length |
| b) 500 FT | 12 x 12 x 3.5 Continuous length |
| c) 100 FT | 12 x 4.5 x 3.5 Continuous length |
|   | [Spool dimensions may vary slightly] |