Communication and Control Cable
1302C
Communication and Control Cable
1302C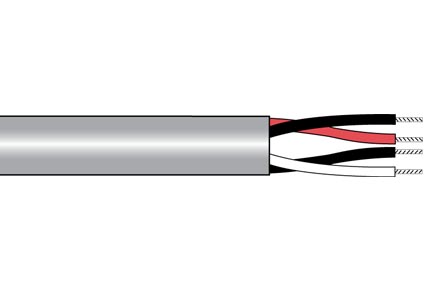 Get control of your communication and control applications
Our line-up of standard communication and control cables gives you maximum choice and fewer tradeoffs. By offering you a comprehensive collection of insulation/jacketing materials, shielding options, and conductor counts, you can easily select the cable that meets your most demanding needs. We have cables that go beyond the ordinary to satisfy rigorous requirements of EMI performance, transmission distances, flexibility, and temperature extremes.
Communication and Control Typical applications:
Audio systems: speakers, microphones, intercoms

Broadcast and studio

Data transmission: RS-232, 422, 485

CAD/CAM

Computer peripherals

Business machines

Security systems: alarms, cameras, sensors

Control systems

Instrumentation systems

Point-of-sale systems

Banking systems
Low capacitance cables for improved transmission distances and signal integrity.
Construction
 
Diameters (In)
1) Component 1
2 X 1 PAIR
 
a) Conductor
22 (SOLID) AWG Tinned Copper
0.025
b) Insulation
0.010" Wall, Nom. PVC, Semi Rigid
0.045
(1) Color Code
Alpha Wire Color Code A

| | | | | | |
| --- | --- | --- | --- | --- | --- |
| Pair | Color | Pair | Color | Pair | Color |
| 1 | BLACK-RED | 2 | BLACK-WHITE | |   |

c) Pair
2/Cond Cabled Together
 
(1) Twists:
9.6 Twists/foot (min)
 
2) Cable Assembly
2 Components Cabled
 
a) Twists:
6.0 Twists/foot (min)
 
b) Orientation:
Components to be arranged from INSIDE LAYER to OUTSIDE LAYER
 
c) Core Wrap
Clear Mylar Tape, 25% Overlap, Min.
 
3) Jacket
0.032" Wall, Nom.,PVC
0.215 (0.228 Max.)
a) Color(s)
SLATE
b) Print
ALPHA WIRE-* P/N 1302C 2PR 22 AWG
75C (UL) TYPE CM OR AWM 2576 --- LLXXXXXX
CSA TYPE CMG FT4 CE ROHS
* = Factory Code
[Note: Product may have c(UL) or CSA markings depending upon plant of manufacture.]
Applicable Specifications
1) UL
AWM/STYLE 2576
80°C / 150 VRMS
 
CM
75°C
 
VW-1
 
2) CSA International
CMG
60°C
 
FT4
 
3) CE:
EU Low Voltage Directive 2014/35/EU
Environmental
1) CE: EU Directive 2011/65/EU(RoHS2), EU Directive 2015/863/EU (RoHS3):
 
This product complies with European Directive 2011/65/EU (RoHS Directive) of the European Parliament and of the Council of 8 June 2011 and the amending Directive 2015/863/EU of 4 June 2015 . No Exemptions are required for RoHS Compliance on this item.
2) REACH Regulation (EC 1907/2006):
 
This product does not contain Substances of Very High Concern (SVHC) listed on the European Union's REACH candidate list in excess of 0.1% mass of the item.
3) California Proposition 65:
This product may contain substances known to the State of California to cause Cancer or Reproductive Harm, but is exempt from labeling based on the Consent Judgement. See the Alpha Wire website for more information.
Properties
Physical & Mechanical Properties
1) Temperature Range
-20 to 80°C
2) Bend Radius
10X Cable Diameter
3) Pull Tension
20.1 Lbs, Maximum
Electrical Properties
(For Engineering purposes only)
1) Voltage Rating
300 VRMS
2) Mutual Capacitance
22.6 pF/ft @1 kHz, Nominal
3) Characteristic Impedance
81 Ω
4) Inductance
0.19 μH/ft, Nominal
5) Conductor DCR
17.3 Ω/1000ft @20°C, Nominal
Other
| | |
| --- | --- |
| Packaging | Flange x Traverse x Barrel (inches) |
| a) 1000 FT | 12 x 10.5 x 5 Continuous length |
|   | [Spool dimensions may vary slightly] |