Alpha Wire introduces Pro-Met Industrial Cables (Europe & Asia)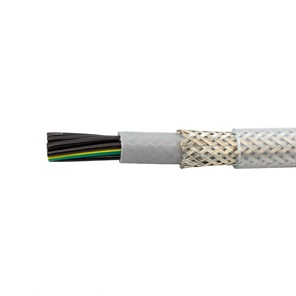 Alpha Wire proudly introduces a metric stranded line of flexible industrial cable impervious to oils and resistant to UV damage. Pro-Met offers the same uncompromising standards of consistency and uniformity in a cable, our customers have come to expect. Superior by design, its round construction makes it easier to install, seal, and route.
"Manufacturing environments are challenging and customers need to significantly reduce the downtime of their machines," said Paul Barsa, Director of Marketing at Alpha Wire. "Dependable cables are essential to manufacturing equipment and Pro-Met fits the bill with its flexibility and superior oil resistance."
Available in 50, 100 and 300 meters to our customers in Asia and Europe, Pro-Met is an excellent solution for industrial automation systems. Standard features include two to twelve conductors, grey or transparent jacketing options, as well as unshielded or tinned copper braid shielding with a 300 / 500 voltage rating.
Pro-Met is designed to meet the rigorous reliability standards critical for highly industrialized environments such as robotic automation and the food and beverage industries. Rated for European manufacturing, this new line of flexible industrial cable meets the standards for Oil Resistance (DIN EN 50290-2-22, TM54), Flame Retardency (VDE 0482-332-1-2, DIN EN 60332-1-2, IEC 60332-1-2), and offers excellent resistance to chemical exposure and UV light.