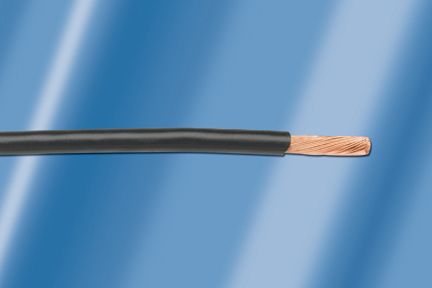 The broad range of hook-up wire from Alpha means you will find the product exactly suited to your application— whether it's as straightforward as a control cabinet in a protected environment or as specialized as a machine tool on the factory floor, a high-temperature oven, or off-road construction equipment.
Our hook-up wire is available in a variety of insulations to meet your needs for temperature, ability to withstand wear and abrasion, electrical performance, or resistance to oil, solvents, and chemicals.
Construction
 
Diameters (In)
1) Component 1
1 X 1 HOOKUP
 
a) Conductor
28 (7/36) AWG Tinned Copper
0.015
b) Insulation
0.010" Wall, Nom. PVC
0.035+/- 0.002
(1) Color(s)
WHITE, BLACK, RED, GREEN, YELLOW, BLUE, BROWN
ORANGE, SLATE, VIOLET, WHITE/BLACK, WHITE/RED
WHITE/GREEN, WHITE/YELLOW, WHITE/BLUE
WHITE/BROWN, WHITE/ORANGE, WHITE/SLATE
WHITE/VIOLET
Applicable Specifications
| | | |
| --- | --- | --- |
| 1) Military | MIL-W-76B TYPE LW | 90°C / 300 VRMS |
|   | MIL-W-16878E/1 | 105°C / 600 VRMS |
Environmental
1) EU Directive 2011/65/EU(RoHS2), EU Directive 2015/863/EU (RoHS3):
 
All materials used in the manufacture of this part are in compliance with European Directive 2011/65/EU and the amending Directive 2015/863/EU of 4 June 2015 regarding the restriction of use of certain hazardous substances in electrical and electronic equipment.
2) REACH Regulation (EC 1907/2006):
 
This product does not contain Substances of Very High Concern (SVHC) listed on the European Union's REACH candidate list in excess of 0.1% mass of the item.
3) California Proposition 65:
This product may contain substances known to the State of California to cause Cancer or Reproductive Harm, but is exempt from labeling based on the Consent Judgement. See the Alpha Wire website for more information.
Properties
Physical & Mechanical Properties
1) Temperature Range
-55 to 105°C
2) Bend Radius
10X Cable Diameter
3) Pull Tension
1.37 Lbs, Maximum
Electrical Properties
(For Engineering purposes only)
1) Voltage Rating
600 VRMS
2) Inductance
0.07 μH/ft, Nominal
3) Conductor DCR
65 Ω/1000ft @20°C, Nominal
Other
Packaging
Flange x Traverse x Barrel (inches)
a) 25000 DR
23 x 20 x 0 Max. 5 separate pieces; Min length/piece 3000 FT.
b) 5000 FT
6.5 x 4 x 2.5 Continuous length
c) 1000 FT
3.5 x 3 x 1.125 Continuous length
d) 100 FT
2.75 x 1 x 1.125 Continuous length
 
[Spool dimensions may vary slightly]
Notes:
a) Certain colors and put-up combinations may only be available by special order, minimums may apply.