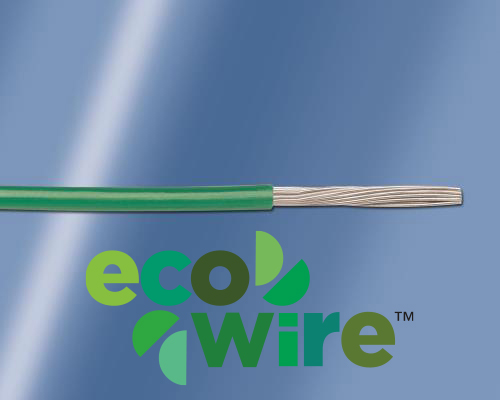 Alpha Wires EcoWire ist die neueste Innovation bei Anschlusskabeln. Als echter technischer Durchbruch erreicht EcoWire eine erweiterte Funktionalität gegenüber normalen PVC-basierten Anschlusskabeln mit seiner vollständig recycelbaren Isolierung.
EcoWire bezieht seinen Vorteil aus seiner einzigartigen Isolierung, einem modifizierte Polyphenylenether-Thermoplast (MPPE). MPPE-basierte Isolierungen sind halogenfrei und enthalten keine Schwermetallpigmente, so dass sie den Herstellern helfen, die Anforderungen für Elektro- und Elektronikgeräte (WEEE) zu erfüllen.
Zusätzlich zu seinen ökologischen Vorteilen bringt EcoWire viele weitere Leistungsvorteile, darunter:
Bessere dielektrische Festigkeit
Großer Temperaturbereich, der VW-1 entspricht
Geringes spezifisches Gewicht
Langlebiger durch 10x bessere Abriebfestigkeit und Druckbeständigkeit
Bis zu 45% kleinerer Durchmesser
Bis zu 40% leichter
Komplett recycelbar

Wenn Sie ein funktionsstärkeres Kabel suchen, das die Umwelt nicht belastet, ist EcoWire Ihre Lösung.
Construction
 
Diameters (In)
1) Component 1
1 X 1 HOOKUP
 
a) Conductor
24 (7/32) AWG TC
0.024
b) Insulation
0.0095" Wall, Nom. Modified Polyphenylene Ether
0.043+/- 0.002
(1) Color(s)
WHITE, BLACK, RED, GREEN, YELLOW, BLUE, BROWN
ORANGE, SLATE, VIOLET, GREEN/YELLOW, DARK BLUE
Applicable Specifications
1) UL
AWM/STYLE 11028
105°C / 600 VRMS
 
VW-1
 
2) CSA International
C(RU) AWM I A/B FT1
105°C / 600 VRMS
3) Other
Halogen-Free
 
 
IEC 60332-2 Flame Behavior
 
4) CE:
EU Low Voltage Directive 2006/95/EC
Environmental
1) EU Directive 2011/65/EU(RoHS2):
 
All materials used in the manufacture of this part are in compliance with European Directive 2011/65/EU regarding the restriction of use of certain hazardous substances in electrical and electronic equipment. Consult Alpha Wire's web site for RoHS C of C.
2) REACH Regulation (EC 1907/2006):
 
This product does not contain Substances of Very High Concern (SVHC) listed on the European Union's REACH candidate list in excess of 0.1% mass of the item. For up-to-date information, please see Alpha's REACH SVHC Declaration.
Properties
Physical & Mechanical Properties
1) Temperature Range
-40 to 105°C
2) Bend Radius
10X Cable Diameter
3) Pull Tension
3.5 Lbs, Maximum
Electrical Properties
(For Engineering purposes only)
1) Voltage Rating
600 VRMS
2) Inductance
0.05 µH/ft, Nominal
3) Conductor DCR
25 Ω/1000ft @20°C, Nominal
Other
Packaging
Flange x Traverse x Barrel (inches)
a) 25000 DR
23 x 20 x 0 Max. 2 separate pieces; Min length/piece 5000 FT.
b) 5000 FT
9 x 4.5 x 3.5 Continuous length
c) 1000 FT
6.5 x 3 x 3.25 Continuous length
d) 100 FT
3.75 x 2 x 1.75 Continuous length
 
[Spool dimensions may vary slightly]
Notes:
a) Certain colors and put-up combinations may only be available by special order, minimums may apply.
About Us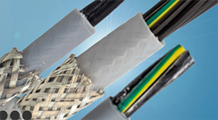 Make Alpha Wire Your First Choice for Reliable Performance
No matter how demanding the environment, you want a cable with the performance and reliability to put your mind at ease.