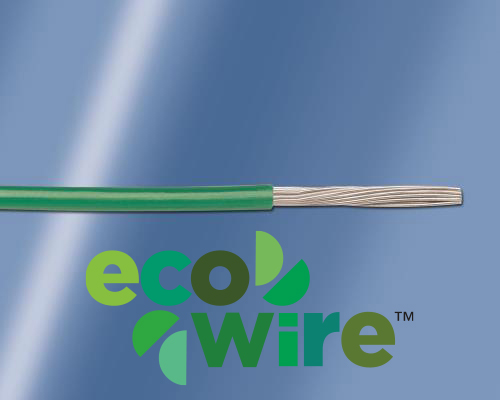 Alpha Wire's new EcoWire is the latest innovation in hook-up wire. A true engineering breakthrough, EcoWire achieves increased performance in a wire that is fully recyclable.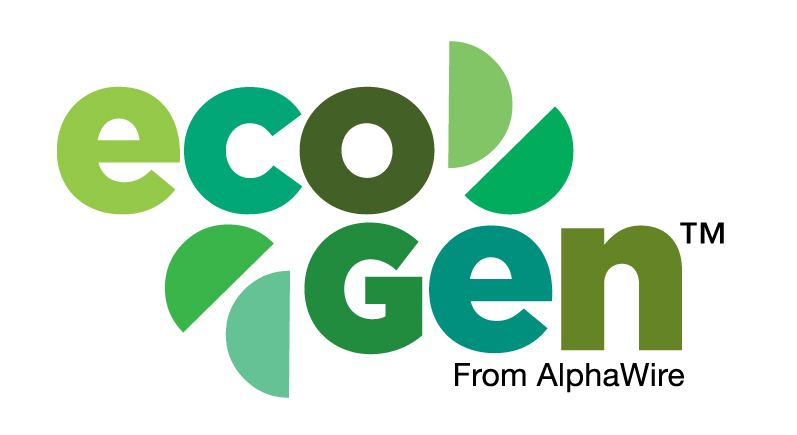 EcoWire derives its advantage from its unique insulation, a modified polyphenylene ether (mPPE) thermoplastic. mPPE-based insulation is non-halogenated and contains no heavy metal pigments, allowing it to help manufacturers meet Waste Electrical and Electronic Equipment (WEEE) requirements.
In addition to its ecological benefits, EcoWire brings many performance advantages, including:
Better dielectric strength
Wide temperature range that meets VW-1
Low specific gravity
Up to 45% smaller diameter
Up to 40% lighter
Fully Recyclable
If you are looking for a higher functioning wire that won't compromise the environment, EcoWire is your solution.
Construction
 
Diameters (In)
1) Component 1
1 X 1 HOOKUP
 
a) Conductor
18 (SOLID) AWG TC
0.040
b) Insulation
0.0095" Wall, Nom. Modified Polyphenylene Ether
0.059+/- 0.002
(1) Print
ALPHA WIRE ECOWIRE TM 18 AWG E163869-DB
RU AWM 11028 105C 600V VW-1 --- CRU AWM I A/B
105C 600V FT1 CE ROHS

(2) Color(s)
WHITE, BLACK, RED, GREEN, YELLOW, BLUE, BROWN
ORANGE, SLATE, VIOLET, GREEN/YELLOW, DARK BLUE
Applicable Specifications
1) UL
AWM/STYLE 11028
105°C / 600 VRMS
 
VW-1
 
2) CSA International
C(RU) AWM I A/B FT1
105°C / 600 VRMS
3) Other
Halogen-Free
 
 
IEC 60332-2 Flame Behavior
 
4) CE:
EU Low Voltage Directive 2006/95/EC
Environmental
1) EU Directive 2011/65/EU(RoHS2):
 
All materials used in the manufacture of this part are in compliance with European Directive 2011/65/EU regarding the restriction of use of certain hazardous substances in electrical and electronic equipment. Consult Alpha Wire's web site for RoHS C of C.
2) REACH Regulation (EC 1907/2006):
 
This product does not contain Substances of Very High Concern (SVHC) listed on the European Union's REACH candidate list in excess of 0.1% mass of the item. For up-to-date information, please see Alpha's REACH SVHC Declaration.
Properties
Physical & Mechanical Properties
1) Temperature Range
-40 to 105°C
2) Bend Radius
10X Cable Diameter
3) Pull Tension
12.8 Lbs, Maximum
Electrical Properties
(For Engineering purposes only)
1) Voltage Rating
600 VRMS
2) Inductance
0.04 µH/ft, Nominal
3) Conductor DCR
6.6 Ω/1000ft @20°C, Nominal
Other
Packaging
Flange x Traverse x Barrel (inches)
a) 25000 DR
23 x 30 x 0 Max. 2 separate pieces; Min length/piece 5000 FT.
b) 5000 FT
12 x 4.5 x 3.5 Continuous length
c) 1000 FT
9 x 4.5 x 3.5 Continuous length
d) 100 FT
3.75 x 2 x 1.75 Continuous length
 
[Spool dimensions may vary slightly]
Notes:
a) Certain colors and put-up combinations may only be available by special order, minimums may apply.