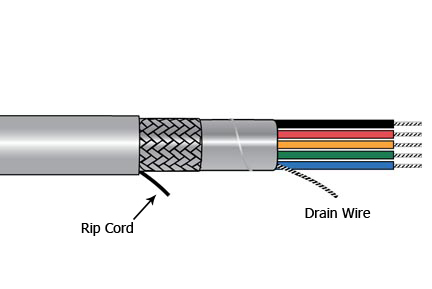 Xtra-Guard® 1 - High performance in a tough PVC cable
High-performance cable for general-purpose applications

Features a unique, premium-grade PVC insulation and jacket for Easier routing of cable in small spaces

Provides resistance to oils per UL Oil Res I (60C OIL RES) and Class 43

UL SUN RES

Designed for use in ambient temperatures up to 105 ° C

Temperature range of -35 ° C to + 105 ° C (SR-PVC) and -30 ° C to + 105 ° C (PVC)

Provides exceptional protection contre EMI interference When Supra-Shield is specified
Construction
 
Diameters (In)
1) Component 1
30 X 1 COND
 
a) Conductor
22 (7/30) AWG Tinned Copper
0.030
b) Insulation
0.010" Wall, Nom. PVC, Semi Rigid
0.050
(1) Color Code
Alpha Wire Color Code E

| | | | | | |
| --- | --- | --- | --- | --- | --- |
| Cond | Color | Cond | Color | Cond | Color |
| 1 | BLACK | 11 | WHITE/BLACK | 21 | WHITE/BLACK/RED |
| 2 | BROWN | 12 | WHITE/BROWN | 22 | WHITE/BLACK/ORANGE |
| 3 | RED | 13 | WHITE/RED | 23 | WHITE/BLACK/YELLOW |
| 4 | ORANGE | 14 | WHITE/ORANGE | 24 | WHITE/BLACK/GREEN |
| 5 | YELLOW | 15 | WHITE/YELLOW | 25 | WHITE/BLACK/BLUE |
| 6 | GREEN | 16 | WHITE/GREEN | 26 | WHITE/BLACK/VIOLET |
| 7 | BLUE | 17 | WHITE/BLUE | 27 | WHITE/BLACK/SLATE |
| 8 | VIOLET | 18 | WHITE/VIOLET | 28 | WHITE/BROWN/RED |
| 9 | SLATE | 19 | WHITE/SLATE | 29 | WHITE/BROWN/ORANGE |
| 10 | WHITE | 20 | WHITE/BLACK/BROWN | 30 | WHITE/BROWN/YELLOW |

2) Cable Assembly
30 Components Cabled
 
a) Twists:
2.5 Twists/foot (min)
 
b) Orientation:
Components to be arranged from INSIDE LAYER to OUTSIDE LAYER
 
c) Core Wrap
Nonwoven Polyester Tape, 20% Overlap, Min.
 
3) Shield:
A/P/A Tape, 20% Overlap, Min.
 
a) Drain Wire
22 (7/30) AWG Tinned Copper
 
b) Braid
Tinned Copper,70% Coverage, Nom.
 
4) Jacket
0.032" Wall, Nom.,PVC
0.417 (0.438 Max.)
a) Color(s)
Slate, Black, Yellow, Orange, Blue, Green, Red, Sand Beige, White
b) Ripcord
1 End 810 Denier Nylon
 
c) Print
ALPHA WIRE-* P/N 5110/30C 30C 22 AWG
XTRAGUARD(R) 1 SHIELDED (UL) TYPE CM 105C SUN RES
OR AWM 2464 80C 300V OR AWM 2517 105C 300V
VW-1 --- LLXXXXXX CSA 105C TYPE CMG FT4
CE ROHS OIL RESISTANT (SEQ FOOTAGE)
* = Factory Code
[Note: Product may have c(UL) or CSA markings depending upon plant of manufacture.]
Applicable Specifications
1) UL
 
 
a) Component 1
AWM/STYLE 10002
105°C / 300 VRMS
b) Overall
AWM/STYLE 2517
105°C / 300 VRMS
 
SUN RES
 
 
AWM/STYLE 2464
80°C / 300 VRMS
 
CM
105°C
 
VW-1
 
2) CSA International
CMG
105°C
 
FT4
 
3) IEC
EN 60332-1 Flame Behavior
 
 
EN 60332-2 Flame Behavior
 
4) Other
Oil Resistant
 
5) CE:
EU Low Voltage Directive 2014/35/EU
Environmental
1) CE: EU Directive 2011/65/EU(RoHS2), EU Directive 2015/863/EU (RoHS3):
 
This product complies with European Directive 2011/65/EU (RoHS Directive) of the European Parliament and of the Council of 8 June 2011 and the amending Directive 2015/863/EU of 4 June 2015 . No Exemptions are required for RoHS Compliance on this item.
2) REACH Regulation (EC 1907/2006):
 
This product does not contain Substances of Very High Concern (SVHC) listed on the European Union's REACH candidate list in excess of 0.1% mass of the item.
3) California Proposition 65:
This product may contain substances known to the State of California to cause Cancer or Reproductive Harm, but is exempt from labeling based on the Consent Judgement. See the Alpha Wire website for more information.
Properties
Physical & Mechanical Properties
1) Temperature Range
-35 to 105°C
2) Bend Radius
10X Cable Diameter
3) Pull Tension
177 Lbs, Maximum
4) Sunlight Resistance
Yes
Electrical Properties
(For Engineering purposes only)
1) Voltage Rating
300 VRMS
2) Capacitance
35 pF/ft @1 kHz, Nominal Conductor to Conductor
3) Ground Capacitance
63 pF/ft @1 kHz, Nominal
4) Inductance
0.18 μH/ft, Nominal
5) Conductor DCR
16.5 Ω/1000ft @20°C, Nominal
6) OA Shield DCR
2.35 Ω/1000ft @20°C, Nominal
Other
Packaging
Flange x Traverse x Barrel (inches)
a) 1000 FT
24 x 14 x 12 Continuous length
b) 500 FT
18 x 9 x 8 Continuous length
c) 100 FT
12 x 5.94 x 5 Continuous length
d) Bulk(Made-to-order)
 
 
[Spool dimensions may vary slightly]
Notes:
a) Oil Resistant Jacket (7d @ 60C).