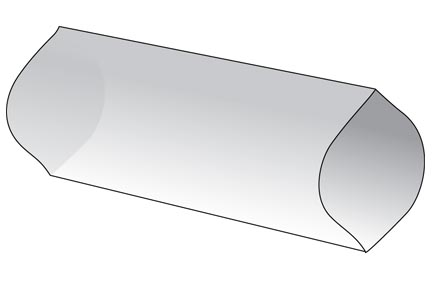 我们的 FIT 热缩管为保护和密封终端或提供额外的机械强度提供一种可靠的方式。FIT热缩产品是在严格的控制下利用高质量复合材料制造而成的。这意味着,FIT 将始终保持优良的物理特性,例如较小的纵向收缩率和较宽的温度范围,并且在单独使用或结合其它设备使用时,具有优雅的外观。
Construction
| | |
| --- | --- |
| 1) Tubing Type | Heat Shrinkable Tubing |
| 2) Tubing Material | Irradiated PVDF |
| 3) Minimum Supplied ID(In) | 1.000 |
| 4) Maximum Recovered ID (In) | 0.500 |
| 5) Nominal Recovered Wall Thickness(In) | 0.019 |
| 6) Color(s) | CLEAR |
Applicable Specifications
| | | |
| --- | --- | --- |
| 1) UL | Standard 224 | 150°C / 600 VRMS |
|   | VW-1 |   |
| 2) Other | AMS-DTL-23053/8 |   |
Environmental
1) EU Directive 2011/65/EU(RoHS2):
 
All materials used in the manufacture of this part are in compliance with European Directive 2011/65/EU regarding the restriction of use of certain hazardous substances in electrical and electronic equipment. Consult Alpha Wire's web site for RoHS C of C.
2) REACH Regulation (EC 1907/2006):
 
This product does not contain Substances of Very High Concern (SVHC) listed on the European Union's REACH candidate list in excess of 0.1% mass of the item. For up-to-date information, please see Alpha's REACH SVHC Declaration.
3) California Proposition 65:
The outer surface materials used in the manufacture of this part meet the requirements of California Proposition 65.
Properties
Physical & Mechanical Properties
1) Temperature Range
-55 to 175°C
 
2) Shrink Ratio
Approximately 2:1
 
3) Full Recovery Temperature
175°C
 
4) Tensile Strength
5000psi, Min
ASTM D638
5) Elongation
150%, Min
ASTM D638
6) Low Temperature Flex(-55°C)
no cracking
AMS-DTL-23053
7) Heat Resistance(250°C,168hrs)
100% Elongation, Min
ASTM D638
8) Heat Shock(300°C,4hrs)
no cracking
AMS-DTL-23053
9) Secant Modulus
1x10 5 psi, Min
ASTM D882
10) Longitudinal Change
+/-10%
AMS-DTL-23053
11) Specific Gravity
1.80, Max
ASTM D792
12) Deformation(125°C,1 hr)
50% Max
UL 224
13) Shelf Life
5 Years @ 18 to 35°C
 
Electrical Properties
1) Dielectric Strength
800 V/mil, Min
ASTM D876
2) Volume Resistivity
1x10 13 ohm-cm, Min
ASTM D876
Chemical Properties
1) Water Absorption
0.50%, Max
ASTM D570
2) Copper stability(250°C,168hrs)
70% Elongation, Min
UL 224
3) Corrosion(250°C,16hrs)
no corrosion
AMS-DTL-23053
4) Fluid Resistance(23°C,24 Hrs)
5000 PSI, Min
AMS-DTL-23053
5) Fungus Resistance
Pass
AMS-DTL-23053
6) Vacuum Outgassing - CVCM
0.03%, Max
ASTM E595
7) Vacuum Outgassing - TML
0.11%, Max
ASTM E595
8) Halogen Free
No
 
9) Lead Free
Yes
 
About Us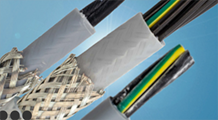 Make Alpha Wire Your First Choice for Reliable Performance
No matter how demanding the environment, you want a cable with the performance and reliability to put your mind at ease.